The History of Argentine Malbec from Laura Catena's Vino Argentino

I have a great memory of Robert Mondavi when he visited the Trapiche winery in 1994 and said to me: "A great Malbec should impress through its attractive and deep purple color, its intense black fruit aromas with a hint of oak, and its sweet mouthfeel, soft as the bottom of a newborn baby…".
Ángel Mendoza, winemaker at Domaine St. Diego, and the "poet winemaker of Mendoza"
---
"Malbec was originally a grape associated with southwest France, but today is much more glorious in South America".
Jancis Robinson, British wine expert and writer
---
Argentina's most famous wine grape varietal, Malbec, is perhaps the best suited to Mendoza's sunny mountain soil and climate. Malbec is one of the five Bordeaux varietals; the other varietals are Merlot, Cabernet Sauvignon, Cabernet Franc, and Petit Verdot. In Argentina, Malbec can be glorious both as a single varietal and in a blend; it combines the dark, ripe, concentrated flavors and aromas of its famous French siblings Cabernet Sauvignon and Cabernet Franc, with a richness and smoothness on the palate that has turned it into the fastest-growing wine import in the world. The dramatic increase in tourism to Argentina in the last few years will only serve to increase the popularity of Malbec.
The history of Argentine Malbec involves a nineteenth-century man named Domingo Faustino Sarmiento, the soon to be president of Argentina, the man who would become known as the father of Argentine education. Sarmiento singlehandedly raised the literacy level throughout the country by creating hundreds of rural schools. He admired the cultures of France and England for what he considered their more civilized ways. Ironically, the French later dealt him a heavy hand when he tried to negotiate taxation and duties with them.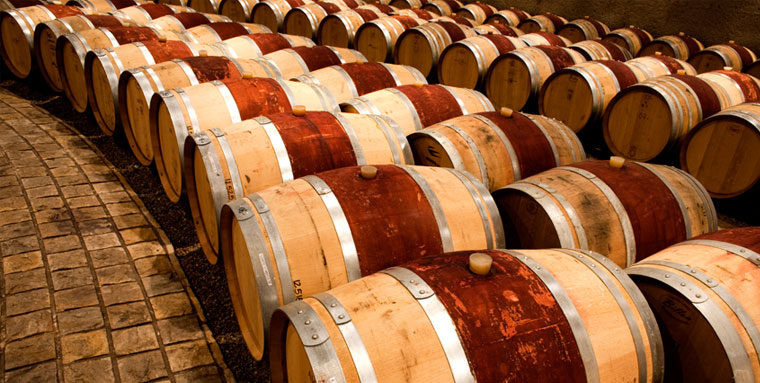 At that time, the French were considered the world's undisputed leaders of fine wine. In his effort to acquire the refined ways of France in the mid-1800s, Sarmiento hired a Frenchman, Michel Aimé Pouget, to establish a vine nursery in Mendoza. The Quinta Nacional, as the nursery was known, was founded in 1853, two years before the 1855 Exposition of Paris, when Napoleon III asked that a classification system for France's best Bordeaux wines be established and displayed. The best wines were given the title Premier Grand Cru Classé, and Lafite Rothschild, Haut-Brion, Latour, Cheval Blanc, and Yquiem made the cut.
The history of Malbec in France dates even further back into the Middle Ages, when Malbec from the French region of Cahors was famously known as The Black Wine. Later on, Bordeaux producers are known to have blended Malbec from Cahors into their lighter Clarets as a way to enhance color and mouthfeel. The famed English wine writer Hugh Johnson once told my father that before the late eighteenth century, Malbec appeared to have been the most important variety in parts of the Médoc, where the majority of the 1855 Classification wines came from. Other sources confirm that Malbec was widely planted in the St-Emilion area. A 1974 book –La Seigneurie et le vignoble de Château Latour, by Charles Higounet– quotes Lamothe, Château Latour's régisseur in 1807, as specifying that there were two noble varietals planted at the Château, Malbec and Cabernet Sauvignon.
My friend Roberto de La Mota, winemaker at Weinert, Terrazas, and now at his own Mendel, tells me that he once met a certain Monsieur Jacques Herbrard (the owner by marriage and general manager of first-growth Château Cheval Blanc for much of the twentieth century), who told him that prior to the French phylloxera epidemic of the 1860s, Malbec represented 60 percent of the Château Cheval Blanc vineyard and of the entire St-Emilion area.
So you can imagine that when Michel Aimé Pouget brought Malbec and other cuttings to Mendoza from France in 1853, his aim was to establish an industry based on quality, defined at the time by what was planted in Bordeaux.
The late nineteenth and early twentieth centuries were a time of great promise for Argentina. The Argentines in power aspired to turn the nation, so blessed with natural riches, into one of the great countries of the world. Buenos Aires was heavily influenced by French architecture –beautiful stone buildings in neighborhoods like Recoleta are reminiscent of a similar period in Paris. In fact, Buenos Aires has so much French-style architecture that the city is often called "the Paris of South America."
And in Mendoza, you can still see the legacy of classic French techniques in the tightly spaced, low-rising plantings in a number of very old Argentine vineyards, such as the Rosas vineyard in La Consulta. Ironically, the Malbec grape, which was at the core of some of the greatest wines in Bordeaux, was decimated by phylloxera in its French homeland in the latter part of the nineteenth century –from 1875 to 1889 some 6.2 million acres of vines in France were destroyed by the disease, caused by an aphid-like insect. At the same time, in Argentina, the Malbec varietal was being widely planted and would lead its second home to winemaking fame more than one hundred years later.
In France, Malbec did not adapt well to the American rootstocks that were brought to Europe to save the vineyards from phylloxera. Because these rootstocks were more vigorous than the naturalMalbec roots, the rootstock grafted plants had excessive canopy growth, high yields, and grapes that had not ripened enough at the time of harvest. This was an important disadvantage in France, where rain and cold weather often force an early harvest. Later, during the big frost of 1956, the Bordelais Malbec was affected again, and this time, almost all of the Malbec in Bordeaux was replaced by Cabernet Sauvignon and Merlot.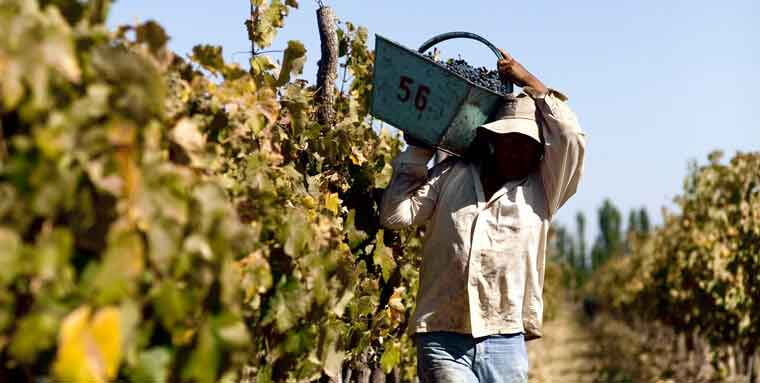 At the time of the phylloxera epidemic in France, Malbec was being propagated throughout the province of Mendoza by immigrants from Italy and Spain. The dry climate and sandy soils in Mendoza inhibited the propagation of phylloxera, and Malbec plants are almost never affected here. The grape ripened beautifully in Mendoza, where the growing season is long and the desert air is dry. Malbec was to become another successful European immigrant to Argentina.
By the mid-1950s, with 120,000 acres under vine, Malbec was the most widely planted fine red varietal in Mendoza. Sadly, the financial crisis of the 1970's would lead to demand for value priced wines in large volume and to the "white and pink wine decades," when thousands of Malbec vines were pulled and Malbec plantings plummeted to 35,000 acres. Today, Malbec plantings are back up to 62,500 acres.
Malbec: The World Discovers the Quality Revolution
By 1980, my father had become concerned that wine was turning into a commodity and as such would have to compete merely on price with the other beverages that were becoming popular. In 1981, our family moved to Berkeley so that my father could take a sabbatical and work as a visiting agricultural economics professor at UC Berkeley. He continued to manage his wine business in Argentina from afar, selling fine wine from the family's Bodegas Esmeralda, a winery that produced the prestigious brand Saint Felicien, still well known in Argentina today.
For a winemaker, it was an inspiring, even thrilling time to be in California. The Californians were challenging the French hegemony on luxury wine, daring to compete with the best wines in France. In Napa Valley, my father learned of the 1976 Judgment of Paris, a competition in which Napa wines came out ahead of their counterparts in Burgundy and Bordeaux, and began to think about making grand wines in Mendoza. After my parents moved back to Argentina, my father became obsessed with the quest for quality.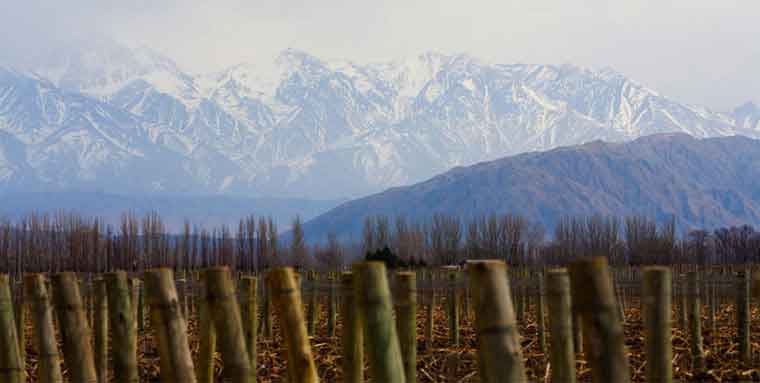 He initially devoted most of his attention to Cabernet Sauvignon and Chardonnay, but my grandfather Domingo kept saying, "Nicolás, I have always told you that our Malbec can compete with the best wines of the world." So after several years of retraining and bringing back to health our old Angélica vineyard in Maipú, the quality of the juice being produced –its concentration, intense aromas, and rich tannins– was impossible to ignore.We started to put a great deal of energy into Malbec. From that came the extreme high-altitude plantings in Gualtallary, the development of a selection of high-quality Malbec cuttings –the Catena cuttings– the new plantings in San Carlos and Altamira, and the next two decades of redefining every aspect of Malbec winemaking and viticulture.
My father and I never blindly applied a methodology that worked in another part of the world without experimenting with it first in Argentina to make sure that it adapted to our climate. No other well-known wine region has vineyards as high in altitude or as low in fertility as ours, or depends on irrigation as much as we do. My father was the first to bring drip irrigation from Israel to Argentina. Dealing with high-altitude sunlight is another issue we continue to explore to this day.
During the 1990s, the President Menem years, many public industries were privatized, and Argentines became enamored with democracy again. Because the dollar-to-peso bank-imposed exchange rate favored the peso, imports to Argentina grew tremendously and exports fell. Argentines traveled to North America and Europe as if they were neighboring countries. This also made our Argentine wines relatively expensive in the U.S. and European markets, and my father realized that unless he could sell wines above $15 in the ultra-premium category, he would not be able to make the business work.
The first real encouragement came from small retailers in the United States, who bought our Catena wines with gusto and vowed to promote them because of their high quality. Then it came a great honor from Wine Spectator magazine: We were the first Argentine winery to be invited by the magazine to pour our wines at the 1995 New York Wine Experience, a tasting of the best wine estates in the world.
By the time my father released his 1994 Catena Malbec with kudos from Robert Parker, we were convinced as a company that Malbec could have a great future. In 1998, the 1996 Catena Alta Malbec was our first cuvée to receive 94 points on the 100 point Robert Parker scale, and it drew the attention of wine enthusiasts around the world.
But it wasn't until the year 2002 that Malbec began to attract the attention of consumers worldwide , a result, no doubt, of the economic crisis of December 2001, which made the Argentine peso lose 65 percent of its value against the dollar. Since then, Argentines and foreigners have invested heavily in Argentine wine, and most of these projects are focused on quality.
The foreigners involved, including the American Paul Hobbs, the French Michel Rolland, the Swiss Donald Hess, the Italian Alberto Antonini, and the Spanish José Manuel Ortega, among others, have taken enormous care to train an entire generation of young Argentines and they have shown a great deal of respect for the Argentine terroir of Malbec.
Nicolás Catena: Malbec Pioneer
"Nicolás Catena is a figure in Argentina of the stature of Robert Mondavi in Napa or Angelo Gaja in Piedmont. He inspired an entire region to strive for a higher level of quality by his successful exploration of high-altitude vineyards and rigorous clonal selection".
Larry Stone, Master Sommelier and trustee, James Beard Foundation
In 2009, Nicolás Catena was the first South American to receive one of the highest honors in the world of wine: The English Decanter Magazine Man of the Year Award. Decanter Magazine's chief editor, Sarah Kemp, confided that for the first time in the award's history the vote was unanimous. Previous winners included Angelo Gaja and Robert Mondavi.
In 1902, Nicolás's grandfather Nicola Catena planted his first Malbec vineyard in Mendoza. Today, Bodega Catena Zapata, the family's most prestigious property, is located in Agrelo, Luján de Cuyo. The bodega's wines –Nicolás Catena Zapata, Catena Zapata Adrianna Malbec, Catena Zapata Nicasia Malbec, Catena Alta and Catena Cabernet Sauvignon, Malbec and Chardonnay– are sourced from five historic estate vineyards: Angélica, La Pirámide, Nicasia, Domingo, and Adrianna. Bodega Catena Zapata is the only South American winery selected by Robert Parker, Jr., as one of the top wine estates of the world in his book The World's Greatest Wine Estates.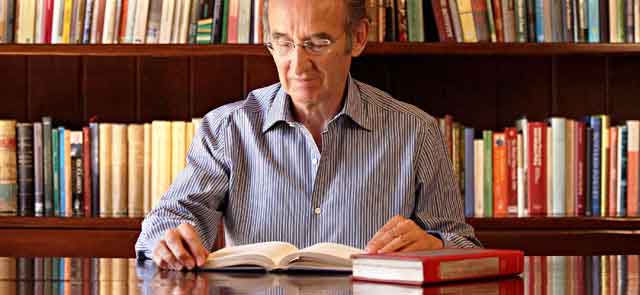 My father is an extremely rational doctor of economics, a recluse, a dreamer, a passionate wine-lover, an extreme optimist (and pessimist), and a devoted husband and father. When I was an undergraduate studying biology at Harvard in the mid 1980's, my father was throwing himself and everything he owned into making an Argentine wine that could compete with the best of the world. We would spend hours over dinner and a great bottle of wine, talking about plant physiology and experimentation; he would tell me about what he was doing at the winery, and I would expound on molecular biology research. I knew very little about wine, other than what was in my blood from so many hours spent at the winery and vineyards as a child, yet my father would listen to my ideas and take my suggestions as if I had a Ph.D. in Enology. It is this quality of always questioning, of wanting to learn, of never accepting something just because "it has always been that way" that has made him Argentina's wine-quality pioneer.
To this day, my father spends most of his time at the winery tasting and retasting the components and blends of the Catena Zapata cuvées. The Zapatas, my paternal grandmother's ancestors, were a traditional landowning family dating back to colonial times, and by Argentine custom, Zapata follows Catena in my father's full name. My father has created a community of winemakers and viticulturalists in Mendoza who believe that our region has extraordinary potential, and that we should always strive to make the best wines in the world. These young people; my siblings, Ernesto and Adrianna; and I are the fortunate beneficiaries of the Nicolás Catena Zapata tradition.